Day 1
Mark Allen
Fellow at CASE – Center for Social and Economic Research
Mark Allen is an international economist who has worked at the IMF for over forty years. He retired as Director of the Policy Development and Review Department in November 2008, but returned in May 2009 to work as Senior Resident Representative in Central and Eastern Europe until March 2013.
Expertise:
global economic governance
financial crises
economics of transition
Bas B. Bakker
Senior Regional Resident Representative for Central and Eastern Europe of the International Monetary Fund
Bas B. Bakker is the IMF's Senior Regional Resident Representative for Central and Eastern Europe in Warsaw. He joined the IMF in 1993 and has held in four IMF departments, working on a range of countries, and policy and research issues. He has worked extensively on central and Eastern Europe, including as head of the Emerging Europe Regional Division and as mission chief for Bulgaria, and is the co-author of the book "How Emerging Europe Came Through the 2008/09 Crisis: An Account by the Staff of the IMF's European Department." He is a national from the Netherlands and obtained his PhD in economics from the University of Groningen. He is married with three kids.
Marek Dabrowski
Senior fellow of CASE – Center for Social and Economic Research
Dr. Marek Dabrowski, a Non-Resident Scholar at Bruegel, Brussels, Professor of the Higher School of Economics in Moscow, Fellow under the 2014-2015 Fellowship Initiative of the European Commission – Directorate General for Economic and Financial Affairs, Co-founder and Fellow at CASE - Center for Social and Economic Research in Warsaw, former Chairman of its Supervisory Council and President of Management Board (1991-2011), Chairman of the Supervisory Board of CASE Ukraine in Kyiv (1999-2009 and 2013-2015), Member of the Scientific Council of the E.T. Gaidar Institute for Economic Policy in Moscow, Former First Deputy Minister of Finance of Poland (1989-1990), Member of Parliament (1991-1993) and Member of the Monetary Policy Council of the National Bank of Poland (1998-2004); Since the end of 1980s he has been involved in policy advising and policy research in Azerbaijan, Belarus, Bosnia and Herzegovina, Bulgaria, Egypt, Georgia, Iraq, Kazakhstan, Kyrgyzstan, Macedonia, Moldova, Mongolia, Montenegro, Poland, Romania, Russia, Serbia, Syria, Turkmenistan, Ukraine, Uzbekistan and Yemen, as well as in a number of international research projects related to monetary and fiscal policies, growth and poverty, currency crises, international financial architecture, perspectives of European integration, European Neighborhood Policy and political economy of transition; World Bank, IMF, UNDP and OECD consultant; Author of several academic and policy papers, and editor of several book publications.
Henry Foy
Central Europe Correspondent at Financial Times
Henry Foe graduated from United World College of the Atlantic in 2006 and University of York in 2010.
From 2006 to 2007 he worked as a reporter for the Businessworld Magazine. From 2010 to May,2013 Mr Foe worked as India Correspondent for Thomson Reuters, in 2013-2014 he was Automotive Correspondent at Financial Times. Henry Foe assumed his functions as Central Europe Correspondent at Financial Times in August, 2014.
Elizabeth Hafner
Assistant USTR for Russia and Northern Eurasia in the Office of the U.S. Trade Representative
As assistant Ms. Hafner is responsible for Russia, Ukraine, Moldova and Belarus as well as Kazakhstan's WTO accession. Her work focuses primarily on planning and formulating U.S. government negotiating positions and tactics on a variety of trade-related issues with her countries of responsibility. She represents the U.S. government in bilateral, regional and multilateral fora and works directly with foreign government officials to address issues of concern to U.S. businesses. Prior to joining USTR, Ms. Hafner was a partner in the law firm of Powell, Goldstein in Washington, DC. Ms. Hafner holds her undergraduate degree in history from the University of California, Berkeley. She has a law degree from the Boston University School of Law and a Master of Law and Diplomacy from The Fletcher School of Law & Diplomacy.


Robert Kirchner
Сoordinator of the German Economic Team Belarus
Robert Kirchner is a consultant Berlin Economics since 2007. After studying economics at the University of Potsdam and Warwick Business School (UK), he worked as a researcher at the University of Potsdam for a few years. His research and consulting activities are focused on the issues of macroeconomic and financial sector, particularly in the context of transition economies.
As part of his activities in Berlin Economics, Robert Kirchner is actively involved in a number of consulting economic projects in Belarus, Ukraine and Russian Federation. He is the project manager of the German Economic Team in Belarus (GET Belarus) and the German Advisory Group in Ukraine (GAG).
Andrei Klepach
Сhief economist of Vnesheconombank of Russia
He assumed this post in July 2014.
Prior to this Klepach was a deputy economics minister of Russia, and since 2004 the director of macroeconomic forecasting department of the Ministry of Economic Development and Trade of the Russian Federation. In that capacity, he dealt with the analysis and forecasting model inflation in the Russian economy, the financial situation of enterprises and industries, enterprises and the non-payment ratio of supply and demand money, market surveys of industrial enterprises, and study strategies for their survival and restructuring.
Iikka Korhonen
Head of the Institute for Economies in Transition BOFIT
Mr. Iikka Korhonen received his doctoral degree from Helsinki School of Economics and Business Administration, majoring in economics.
In July 1995, he joined the Institute for Economies in Transition, where he has followed, among other things, banking and financial systems of the Baltic states and Russia. His past duties include working as BOFIT's research supervisor, and since October 1, 2009, he has been the Head of BOFIT. His research interests include exchange rates and inflation in transition as well as emerging market countries.
Andrey Movchan
Senior Associate and Director of the Economic Policy Program, Carnegie Moscow Center
Andrey Movchan is a senior associate and director of the Economic Policy Program at the Carnegie Moscow Center. His research focuses on Russia's economy, the Eurasian Economic Union, and the future of Russia's economic relations with the EU. Movchan has been a top executive for Russian and international financial institutions since 1993. He was an executive director of Troika Dialog for six years. From 2003 to 2009, Movchan headed Renaissance Investment Management Group, which he founded, and from 2006 to 2008, he was the CEO of Renaissance Credit Bank. He also founded the Third Rome investment company, and was its CEO and managing partner from 2009 until the end of 2013. Movchan is one of Russia's best known financial managers. He was named "the most successful CEO of an asset management company in Russia" by Forbes in 2006 and "the best CEO of an asset management company" by the Russian magazine Finance in 2008. He has won numerous awards, including the RBC Person of the Year Award in 2006, the Chivas Top 18 Financials Grand Prix in 2007, and SPEAR's Russia Wealth Management Awards in the Industry Legend category in 2009. Movchan has also authored numerous publications on economics and finance. His op-eds and commentary regularly appear in the media. He won two PRESSzvanie business journalism awards in 2011 and 2013.
Kiryl Rudy
Former Economic Advisor to the President of the Republic of Belarus (2013–2016)
Dr. Kiryl Rudy graduated the Belarusian State Economic University in 2000. In 2001 he defended his thesis on currency regulation. In 2002-2007 - Deputy Dean of the Faculty of Finance and Banking of the BSEU. In 2004 - Fulbright Scholar (Indiana University). In 2007-2012 - Counsellor for Economic and Commercial Affairs of the Embassy of Belarus in China. In 2012 he defended his doctoral thesis on the world economy and international finance. In 2013 - Deputy Director of Bel-Huawei Technologies (Huawei Ltd.). Since June 2013 - Assistant of the President of the Republic of Belarus on economic issues.


Sanaka Samarasinha
UN Resident Coordinator / UNDP Resident Representative / UNFPA Representative in the Republic of Belarus
Mr. Samarasinha has served in his current capacity in Minsk for four years. Before this appointment, Mr. Samarasinha served in various offices of the UN and UNDP, and in particular, as Director a.i., Global Centre for Public Service Excellence, Singapore; Senior Advisor to the UN Resident Coordinator and UNDP Resident Representative in Iran; Officer in Charge, Maldives; Director a.i., Kosovo and Officer in Charge of UNDP Samoa, Niue, Tokelau and the Cook Island. Mr. Samarasinha was also Deputy Resident Representative in Myanmar and Deputy Country Director, Sri Lanka. Prior to that he served in Bangkok as the Regional Rule of Law Advisor covering 26 countries in Asia and the Pacific. Before joining the UN, Mr. Samarasinha worked in the legal profession and in journalism, with government, civil society and the private sector in several different countries including the USA, South Africa and India.
Ben Slay
Senior advisor at the Regional Service Centre for Europe and the CIS, UNDP
Ben Slay has more than 25 years of experience in economics and policy analysis, policy and programming for sustainable development, research and teaching, and UNDP strategic, programme, project management. His main areas of expertise are economics of transition, international economics, macroeconomic policies, energy and environmental economics sustainable development. Mr. Slay support UNDP senior management, country offices, United Nations country teams, and national partners in Europe and Central Asia in the areas mentioned above. He also have worked in the private and public sector, and academia, including at PlanEcon Inc. (now part of Global Insight), and teaching economics at a number of American universities and colleges.
Some achievements
• 2013-2014 Served as UNDP's poverty reduction team leader in the Europe and Central Asian region.
• 2012 Served as senior advisor for sustainable development in UNDP's Bureau of Development Policy, in preparation for the UN Conference on Sustainable Development (Rio+20)
• 2001 - 2012 Advising government ministers/officials, and UNDP senior management, on key economic development and transition issues.
• 2008 - 2011 Created the senior economist's office in UNDP's Regional Bureau for Europe and the CIS
• 2005 - 2011 Served as executive editor of the UNDP Development and Transition research bulletin.
• 2001 - 2008 Served as director of UNDP's Bratislava Regional Centre. During this time, the Centre's staffing tripled and its programming increased nearly ten-fold.
Nikolay Snopkov
Deputy Head of the Administration of President of Belarus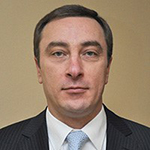 He graduated from the Belarusian Agricultural Academy in 1991, the Academy of Public Administration under the aegis of the President of the Republic of Belarus in 2001.
In 1990-1996 he worked as an economist, chief economist at the companies in Grodno and Mogilev regions. In 1996-2000 he worked as Deputy Chairman for economic issues, market relations and privatization at the Gorki District Executive Committee. In 2000-2007 Nikolai Snopkov worked as head of the financial department of the Mogilev Regional Executive Committee. In 2007-2009 he was Deputy Chairman of the Mogilev Regional Executive Committee. In 2009 he became Deputy Head of the Belarus President Administration. In 2009-2014 Nikolai Snopkov worked as Economy Minister of the Republic of Belarus.
In December 2014 he was appointed Deputy Head of the Belarus President Administration.
Irina Tochitskaya
Academic Director of the IPM Research Center
Irina Tochitskaya graduated from Belarusian State Economic University in 1986. She graduated from postgraduate courses of the Institute of Economics of the National Academy of Sciences in 1989. She received PhD in 1991 and became a research fellow. She worked as a research fellow for the Institute of Economics of the National Academy of Sciences (NAS) in 1991–1994, 1996–1998. Dr. Tochitskaya was a Chief Specialist of the Department of Economic Analysis at the Joint Stock Bank "Belarusbank" (1994–1996). She worked as a senior research fellow for the Institute of Economics of NAS in 1998–2003. Since 2003 she has been a Deputy Director of the IPM Research Center. She has experience in project management at national and international levels, and specifically she is the Director of the project German Economic Team in Belarus, supported by the Federal Ministry of Economics and Technology of Germany. As a Team Leader and Senior Expert she has participated in numerous projects supported by the European Commission, the Ministry of Economic Development and Trade of Russia, EERC.


Andrea Wiktorin
Ambassador, the European Union Delegation to Belarus
Andrea Wiktorin is the Head of the Delegation of the European Union to Belarus. She is a German diplomat with the rank of Ambassador. She assumed her current post in September 2015. Her earlier overseas postings were as Germany's Ambassador to Latvia (2012-2015) and Germany's Ambassador to Armenia (2007-2009). She also held posts at the German Federal Foreign Office. Ms Wiktorin served as the Deputy Head of Mission at the German Embassy in Belarus between 2000 and 2003. She joined the German Federal Foreign Office in 1989.



Alexander Zaborovsky
First Deputy Minister of Economy of Belarus
Education: 2004 - Belarusian National Technical University
Scholastic degrees:
2007: PhD in Economic sciences
2004-2008 - junior researcher, researcher, senior researcher at the State Scientific Institution "Institute of Economics of NAS of Belarus"
2008-2011 - Assistant of the Chairman of the Presidium of the National Academy of Sciences of Belarus
2011-2012 - First Deputy Head, Head of the Secretariat of the Prime Minister of the Republic of Belarus, Deputy Chief of Staff of the Council of Ministers of the Republic of Belarus - Head of the Secretariat of the Prime Minister of the Republic of Belarus
2012-2014 - Head of the Secretariat of the Prime Minister of the Republic of Belarus
Since 28 of December 2014 – First Deputy Minister of Economy of the Republic of Belarus